The First Tank Battle pt 8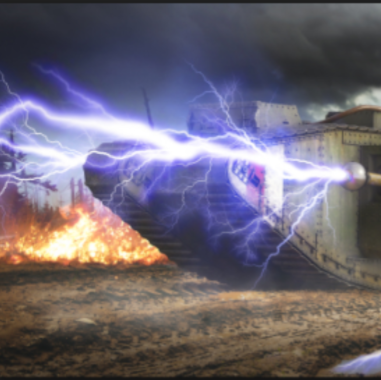 From the logs of: Willhelm Stüben – Prvt first class. 15 September, 1916 cont.
The pain of all my skin on fire and the heat in my mouth burning my tongue brought me back to this hellish place...I try to move, lurch forward, sit up, to spit whatever is burning my mouth out of it. My eyes want to remain closed so that I won't find out what's happened to me. The burning sensation continued but became more like a burn from the Sun and not as painful as it seemed before. I explored the heat in my mouth carefully and realized it was the filling in my tooth that had become hot and was now, with my labored breathing and mouth open, began to cool down...
I dared to open my eyes, and found them crusty, as after long sleep. I blinked until I could see and was not surprised by the results of the lightning gun on my comrades, as I had already seen the worst of it's horrors. I thought.
Most of my uniform was intact and sections of it were smoking. I took stock of what I had and looked around to see what I could use as a weapon, as I could see no rifles about. The small bits of metal here and there from the bits of barb wire and the various buckles and other adornments on the bodies that surrounded me were trailing gray trails upward, like all of the metal spirits had been defeated.
There was a wider, but less substantial smoke trial coming from something half-buried in some earth that had collapsed upon it.
Taking one more quick assessment of my faculties, I moved to unearth the Mortar, and found in a buried wooden crate, 3 shells.
As a precaution, I replace the lid on the shells and pull the dirt over the case until it is completely covered again in case the lightning comes again and sets them off before I can use them. I step once again onto the wooden shelf, and dare a quick glance over the top.
2 Responses
Leave a comment
Comments will be approved before showing up.