The End of WWI but not of Shattered Crown!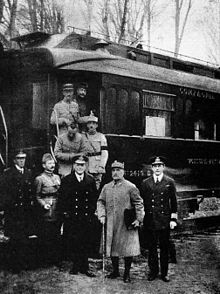 The Armistice of 11 November 1918 was the armistice that ended fighting on land, sea and air in World War I between the Allies and their opponent, Germany. Previous armistices had eliminated Bulgaria, the Ottoman Empire and the Austro-Hungarian Empire from the war. Also known as the Armistice of Compiègne from the place where it was signed, it came into force at 11 a.m. Paris time on 11 November 1918 ("the eleventh hour of the eleventh day of the eleventh month") and marked a victory for the Allies and a defeat for Germany, although not formally a surrender.
The actual terms, largely written by the Allied Supreme Commander, Marshal Ferdinand Foch, included the cessation of hostilities, the withdrawal of German forces to behind the Rhine, Allied occupation of the Rhineland and bridgeheads further east, the preservation of infrastructure, the surrender of aircraft, warships, and military materiel, the release of Allied prisoners of war and interned civilians, eventual reparations, no release of German prisoners and no relaxation of the naval blockade of Germany.
Although the armistice ended the fighting, it needed to be prolonged three times until the Treaty of Versailles, which was signed on 28 June 1919, took effect on 10 January 1920. On 29 September 1918 the German Supreme Army Command informed Kaiser Wilhelm II and the Imperial Chancellor, Count Georg von Hertling at Imperial Army Headquarters in Spa of occupied Belgium, that the military situation facing Germany was hopeless. Quartermaster General Erich Ludendorff, probably fearing a breakthrough, claimed that he could not guarantee that the front would hold for another two hours and demanded a request be given to the Entente for an immediate ceasefire. In addition, he recommended the acceptance of the main demands of US president Woodrow Wilson (the Fourteen Points) including putting the Imperial Government on a democratic footing, hoping for more favorable peace terms. This enabled him to save the face of the Imperial German Army and put the responsibility for the capitulation and its consequences squarely into the hands of the democratic parties and the parliament. He expressed his view to officers of his staff on 1 October: "They now must lie on the bed that they've made for us.
Leave a comment
Comments will be approved before showing up.