Shattered Crown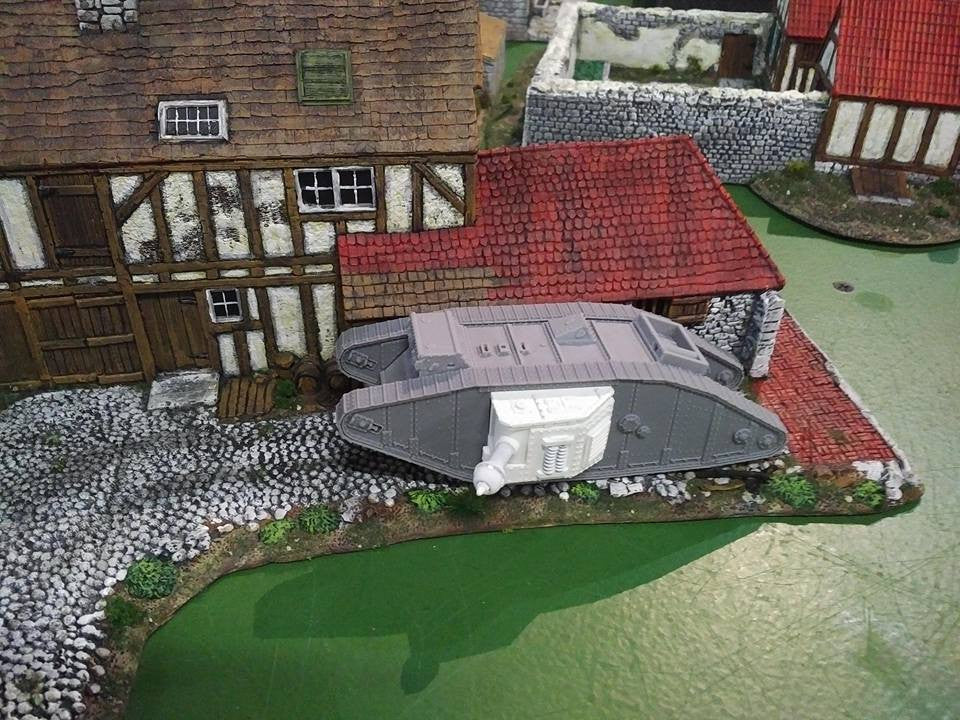 MARCH 21, 2017 FOR IMMEDIATE RELEASE Media Contact: Lee Gaddies, ph:313.701.2693; gaddisgaming@gmail.com
The world's greatest soldiers need a hero. A new skirmish game asks, "Is it you?"
They were the first American unit to go into battle in WWI, earning universal renown for their fighting spirit and for never giving up an inch of ground, or losing a man to capture. They were the Harlem HellFighters— first black first African American regiment to serve with the American Expeditionary Forces during World War I. To commemorate the 100th Anniversary of the Great War, and to acknowledge these courageous and long-neglected men who paved the way for future black soldiers, game developer Gaddis Gaming is launching a KickStarter campaign seeking support from gamers to bring their new Shattered Crown miniatures game to market.
Shattered Crown is the first WWI game to combine history, science fiction and fantasy with a complete line of 28mm miniatures—including the Allies, Germans, Japanese, Russians—putting it on the frontline of gaming's "Weird" genre while transporting gamers to a thrilling battlefield. The world of Shattered Crown definitely delivers the Weird, reimagining history to set the game just after an Earth's victory over the Martian invasion, with the different factions now finding themselves—wonderfully weirdly— on the eve of WWI.
Lee Gaddis, Gaddis Gaming founder, explains, "In this version of the war, advanced battle technology stems from scavenged Martian walkers making the conditions even more unstable in this arms race. Here WWI tanks have evolved into ferocious diesel-powered mechs seen in weird WWI-inspired battles alluding to the stories of Jules Verne and H.G. Wells. Thundering across the land on metal Walker legs and diesel powered tank tracks; these machines hold the future of warfare in their turrets. Imagine a universe in which WWI adventures are split between the Allies, the Monarchy, and those who oppose her Imperial ambition. As a leader of the Allied forces, the player must strategize, command, and fight with all his forces -- can even the likes of the Harlem HellFighters overcome such odds during these intense firefights?"
The highly detailed miniatures are also compatible with Gaddis Gaming's planned line of battlefield expansions that are being released using their GADDIS  Universal Assembly of Rules Data System (G.U.A.R.D.S.). This innovative system shares one set of rules across all games.
With Shattered Crown, Gaddis Gaming has taken the best of miniatures warfare and boiled it down into a skirmish game that's accessible and enjoyable—both for those that have just started playing with miniatures, and for hardcore gamers.
View the Shattered Crown Kickstarter page at: https://www.kickstarter.com/projects/1834692986/shattered-crown
About Gaddis Gaming Founded in 2014 by Lee Gaddies, Gaddis Gaming specializes in manufacturing tabletop-game related products to enhance social game playing experiences and is the creator of the TableTopper—a portable mini war-room, Out-Of-Play-Zones—providing an area for dice to be rolled and minis to store when out of play, and a line of highly detailed 28mm metal WWII miniatures, including the six major nations that fought in WWII with a wide variety of uniforms and poses for each faction. Visit [www.gaddisgaming.com] to learn more.
Leave a comment
Comments will be approved before showing up.